What is your background?
I have quite a varied background working within the construction industry, which has included working as a designer, landscaper, builder, furniture designer and maker, carpenter and set builder. I was working as a creative director before joining MAX Build, where I have been working for the past year.
What is your role at MAX Build?
I work as a Leading Hand, which means that I am working to help the Foreman by looking out for all the guys on our project. I work to lead by example, demonstrating the MAX Build values of Play as a Team, Build with Pride and Respect the Resident. We all work together using these values to ensure we are meeting the project benchmarks and deadlines.
I am also the RUOK? Ambassador at MAX Build. On RUOK? Day I help to lead activities on all our sites to encourage more open and honest communication around mental health between all our workers.
What skills do you bring to the team?
From my many years working within the construction industry I bring different building skills from carpentry to joinery and design skills. Having worked in a team environment for so long, I am also skilled in conflict resolution and am known as a problem solver.
What project are you currently working on and what stage is it in?
I am currently working on Ramsgate Avenue which is in its final stages.
This has been a great project to work on because of the great views overlooking Bondi and also being only 5 minutes away from my home!
What initially interested you to join MAX Build?
The attitude of the company towards its employees is very refreshing – I feel like I am part of a family with common goals.
What do you enjoy the most about working at MAX Build?
The people!
I enjoy being able to use all my skills gained through previous experiences throughout the whole project I work on, which includes resolving the design problems that inevitably rear their heads every day.
What are some benefits of working at MAX Build?
I am an advocate of mental health, so I feel supported by the company culture such as the involvement MAX Build has with Mates in Construction and the availability of an Employee Assistance Program which includes the use of a psychologist for everyone to use for all matters, at all times.
Being able to work alongside some very clever and capable craftspeople on the projects always keeps it interesting and allows everyone to pick up new skills.
What do you enjoy doing outside of work on the weekends?
I enjoy keeping active and most of my hobbies are completed on or in the ocean - sailing, surfing, free diving and diving.
How do you like to keep healthy – body and mind?
Smiling, Surfing, Yoga.
Are you involved in any charities / volunteering outside of work?
I've recently designed and made an installation for the UTS Climate Institute.
I also help around the community wherever I can, which includes volunteering for Blue Planet Odyssey whose aim is to raise awareness of climate change and the most urgent issues facing our ocean by collecting sea water samples and dropping ocean monitoring buoys across the Pacific.
What is one thing your colleagues don't know about you?
I have sailed around the world on a 40ft sailboat.
What advice would you give yourself for when you first started out in your career?
Watch, learn and listen!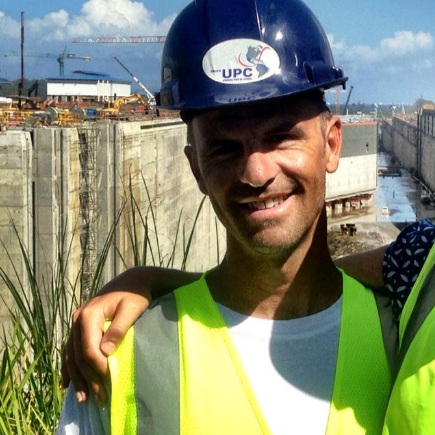 Inspecting the Panama Canal whilst sailing around the world